Policy & Global Development
ISGlobal and CREAL Websites to Merge
News and events from both of the institutes in the ISGlobal Alliance will now be published on the website www.isglobal.org
08.03.2016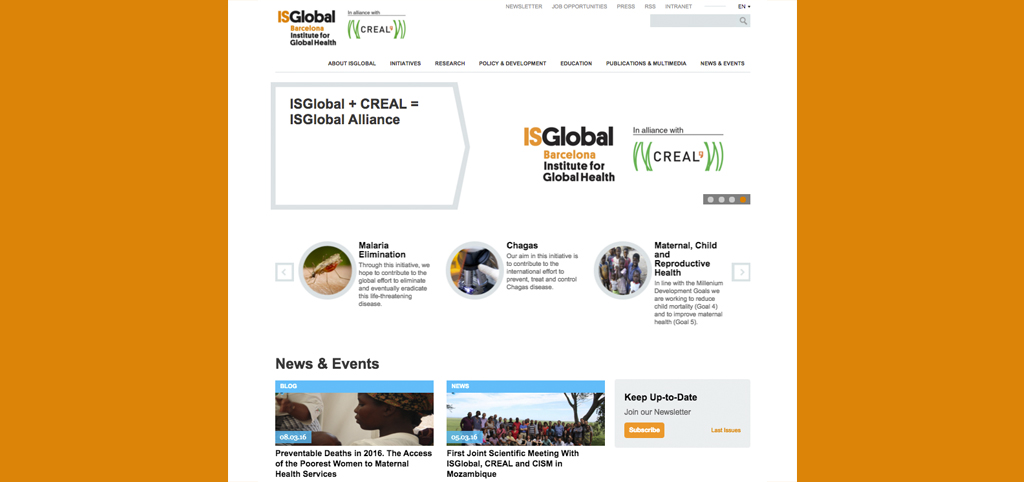 The merger of the Barcelona Institute for Global Health (ISGlobal) with the Centre for Research in Environmental Epidemiology (CREAL) is entering the homestretch in the first quarter of 2016. As an essential part of this integration process, the communications channels of the two institutions will be merged, and in particular their websites. The first step was taken on 1 March 2016, when both institutions began publishing their full-length news items and event postings only on www.isglobal.org. For the moment, www.creal.cat will remain active but the only new content will be summaries and links to items on the other site.
Content will gradually be transferred from the CREAL website to the ISGlobal website over the next few months. Throughout this period, the ISGlobal Alliance logo—which identifies both institutions—will appear on the banner heading of both websites.
The alliance between ISGlobal and CREAL started in 2013 with the support of the SUMA programme, which promotes mergers between members of CERCA, the Catalan Government's network of research centres. After an initial period used to explore possible synergies, the trustees of both institutions approved the complete merger of ISGlobal with CREAL, a process that will be completed in late June 2016. The integration of communication tools is another step in the implementation of a joint strategic plan. Once the merger is complete, ISGlobal will become one of the largest global health institutes in Europe and gain greater visibility on the international stage.