Research, Maternal, Child and Reproductive Health
Investigators Demonstrate That Intermittent Preventive Treatment in Infants Is Effective Against Malaria in a Non-african Setting
Plos Medicine publishes the results of a trial in Papua New Guinea led by a researcher from CRESIB, the research centre of ISGlobal
27.03.2012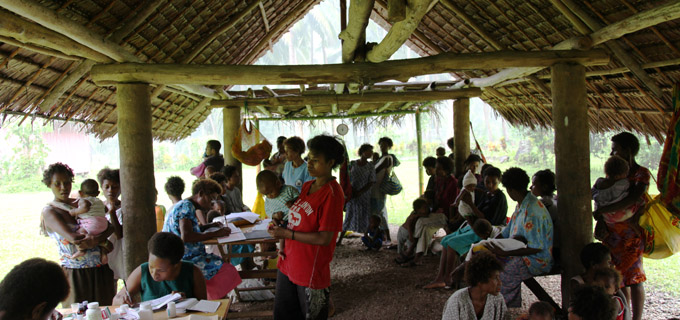 Intermittent Preventive Treatment in infants (IPTi), which involves the administration of a treatment dose of an antimalarial drug on a predetermined schedule coinciding with routine visits for vaccinations, has been shown to be an effective strategy for preventing malaria and anaemia in sub-Saharan Africa. However, until now no evidence was available to support its effectiveness in other areas. This trial led by a researcher from the Barcelona Centre for International Health Research (CRESIB), the research arm of ISGlobal, has demonstrated for the first time the safety and efficacy of IPTi in a non-African setting and in an area where malaria is caused by both Plasmodium falciparum and Plasmodium vivax, the two most common causative parasites.
This trial in Papua New Guinea, recently published in the journal PLoS Medicine, is the first study to be conducted outside of Africa and in an endemic area where malaria is caused by infection with both P falciparum and P vivax. The results of the trial, which was carried out between June 2006 and June 2010 in the province of Madang on the north coast of Papua New Guinea, have shown that IPTi reduced the incidence of new cases of malaria by 30% and protected children for at least six weeks after the end of treatment. In this way, IPTi does not prevent the development of the naturally acquired immunity that protects people living in endemic areas against the parasite.
Ivo Mueller, the researcher who led the trial in Papua New Guinea works at CRESIB and the Walter and Eliza Hall Institute. Talking about the results he highlighted the issue of acceptability, "In these areas where the burden of malaria caused by Plasmodium vivax is high, demonstrating the acceptability of IPTi is a first step towards the adoption and integration of this strategy into national health programmes in these countries. While the results from the CRESIB trial in Africa indicate that, in that region, IPTi is a highly cost-effective intervention even at moderate levels of transmission, further studies on its cost-effectiveness in non-African settings are needed before the World Health Organization can recommend inclusion of the strategy in the national health programmes of non-African countries."
Learn more
Full press release (in Spanish)