Research, Antimicrobial Resistance
Experts at the World's Largest Gathering on Infectious Diseases Warn on Antibiotic Resistance as a Global Threat
Participants at the 24th European Congress of Clinical Microbiology and Infectious Diseases acknowledge that they are facing a number of increasing challenges and new threats
13.05.2014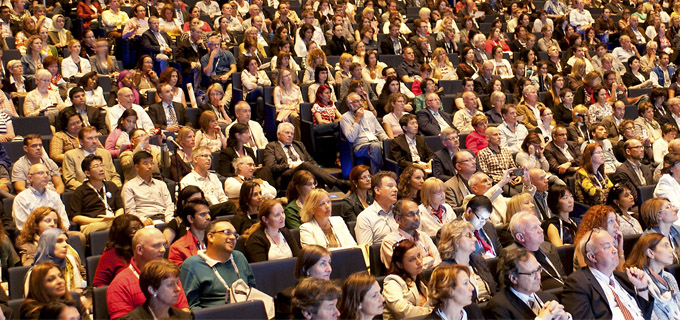 More than 10,000 experts from 116countries attended the 24th European Congress of Clinical Microbiology and Infectious Diseases (ECCMID), held in Barcelona from 10-14 May, 2014. The Congress, the world's largest conference on infectious diseases and organised by the European Society of Clinical Microbiology and Infectious Diseases, brought together scientists, clinicians, health professionals and representatives from industry who discussed the challenges and emerging new threats in infectious diseases.
Only a week after the World Health Organisation had issued a stark warning about antibiotic resistance as a major global threat, the topic featured heavily throughout the four-day Congress. "Antibiotic resistance is increasing at a pace that means we could soon face a post-antibiotic era where infections that were once treatable will turn deadly. There hasn't been any new class of antibiotics since 1987 and there are few antibiotics in the development pipeline," warned Jordi Vila, ECCMID's Programme Director and Director of ISGlobal's Antibiotic Resistance Initiative.
Other topics discussed during the Congress were:
The approval and introduction in Europe of a new meningitis B vaccine that protects children against one of the most common and deadly forms of meningitis.
A worrying increase in cases of a new infection - the Middle East respiratory syndrome coronavirus (MERS-CoV) - which now has confirmed cases in Europe and the USA.
Despite a fall by 5% in TB cases in Europe, the failure in the region to meet targets to treat multidrug resistant TB.
An increase of 8% in HIV transmission across Europe with more than 131,000 new HIV infections reported across the 53 countries.
The ongoing monitoring of the new avian influenza A (H7N9), which in February 2014 had a confirmed case outside of China.
The introduction of Human Papillomavirus (HPV) vaccine in 21 European countries to immunise girls against the virus that causes cervical cancer.
The development of new rapid methods for diagnostics of infectious diseases.
Dissemination of bacterial resistance to antimicrobial agents that may require surveillance programs and rapid identification heading towards new stewardship guidelines.
Treatment of infections caused by multidrug Gram-negative bacteria.
The European Society of Clinical Microbiology and Infectious Diseases is a non-profit organisation dedicated to improving the diagnosis, treatment and prevention of infectious diseases in Europe and beyond. The Society promotes and supports research, education and training and shares good medical practice in the infection disciplines to build capacity throughout Europe.