Research
Ageing towards walkable futures Workshop
23.10.2023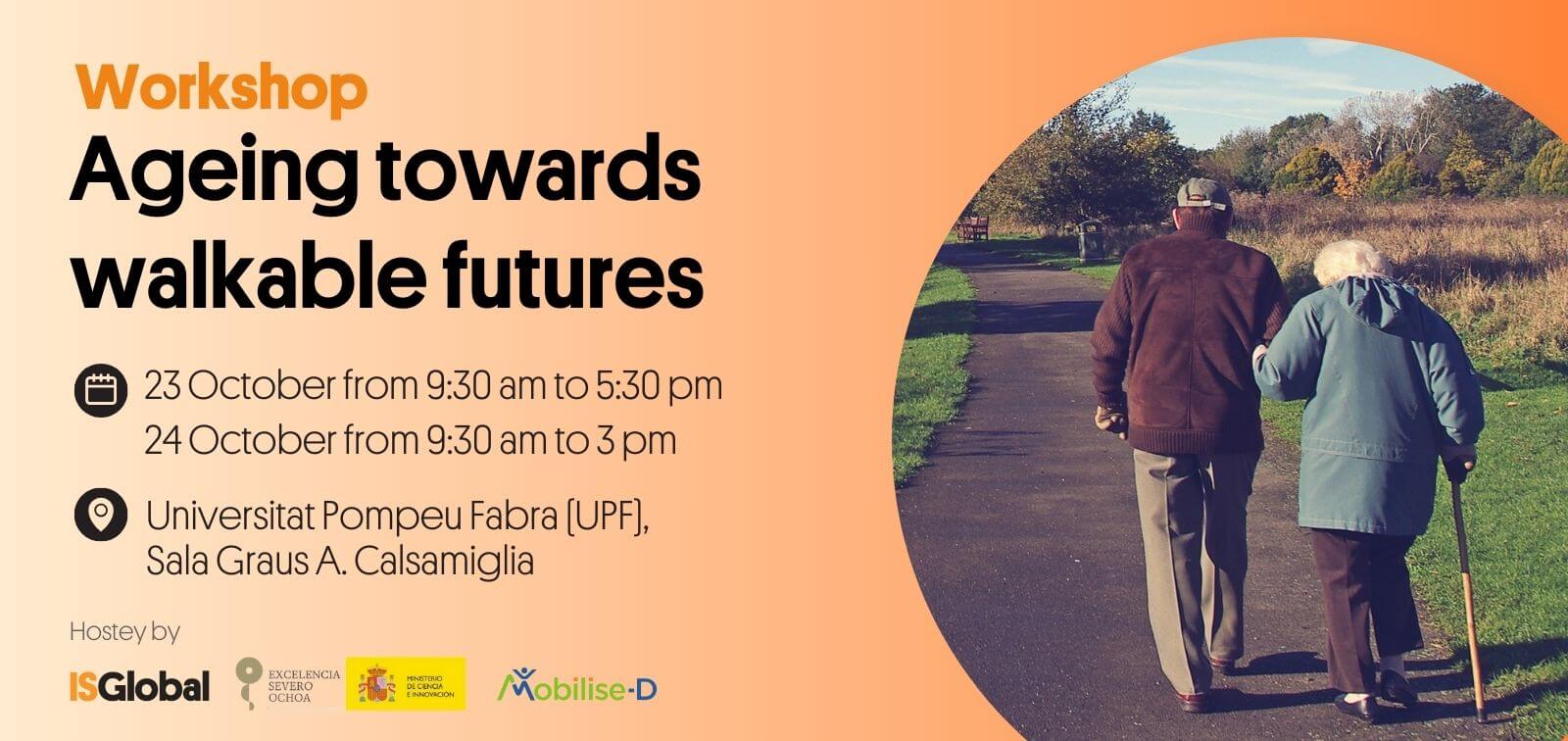 Date

23/10/2023

-

24/10/2023

Hour

9:30 AM - 5:30 PM, 9:30 AM - 3 PM

Place

Universitat Pompeu Fabra (UPF) - Sala Graus A. Calsamiglia
Walking is crucial for active and healthy ageing. The rapid ageing of the population and the rise of non-communicable diseases (NCDs) worldwide forecast an increase in the proportion of people living with walking impairment, including not only a reduction in walking activity but also adaptations such as the need to slow down or the use of assistive technologies. In addition, walking at older ages is often challenged by personal factors and by the context in which the walking activity happens. Hence, a comprehensive overview of walking in the context of ageing is needed to assess this nuanced concept, and to contribute to this growing research field.
Combining forces with leading experts in the field of ageing and walking, we have envisioned a multi-disciplinary event in which we aim to comprehensively discuss about the concept and implications of walking at older ages, and to agree on a set of research priorities and policy actions to be addressed in the near future. Specifically, we will: (1) explore what walking means from different perspectives and how it changes with ageing and in the presence of NCDs; (2) assess the emotional and social components of walking at older ages; and (3) discuss on the importance of walkable environments for older adults.
This workshop is free of charge and applications from anyone interested in the mobility and ageing field are encouraged. This will be an in-person workshop, at the Universitat Pompeu Fabra, Campus Ciutadella, and will be held in English. To secure your place, please complete the registration form. Seats are limited, so we encourage you to register early.
Workshop Organisers:
Judith Garcia-Aymerich, ISGlobal
Leire Pajín, ISGlobal
Laura Delgado Ortiz, ISGlobal
Lynn Rochester, University of Newcastle
Invited Workshop Speakers:
Juana Willumsen, WHO
Lisa Alcock, Newcastle University
Carl-Philipp Jansen, Robert Bosch Hospital Stuttgart
Susanne Iwarsson, Lund University
Laura Coll, Universitat de Vic
José Augusto García Navarro, Consorci de Salut i Social de Catalunya
Simón Schwartz i Riera, Federació d'Associacions de la Gent Gran de Catalunya
Willeke van Staalduinen, AFEdemy
Merja Rantakokko, University of Jyväskylä
Josep Maria Jansà, Agència de Salut Pública de Barcelona
The programme includes presentations from workshop speakers, round tables and open discussions with speakers and attendees, and structured activities to set research and policy priorities for the future.

This workshop is supported by grant CEX2018-000806-S funded by MCIN/AEI/ 10.13039/501100011033