Policy & Global Development, Urban Planning, Environment and Health
New European Directive on the Reduction of Air Pollutant Emissions Analysed by Scientists, Government and Civil Society
The European Parliament Information Office in Barcelona, ISGlobal and the Spanish National Research Council (CSIC) in Catalonia organise a debate on the new legal framework for air quality to be adopted this month
14.11.2016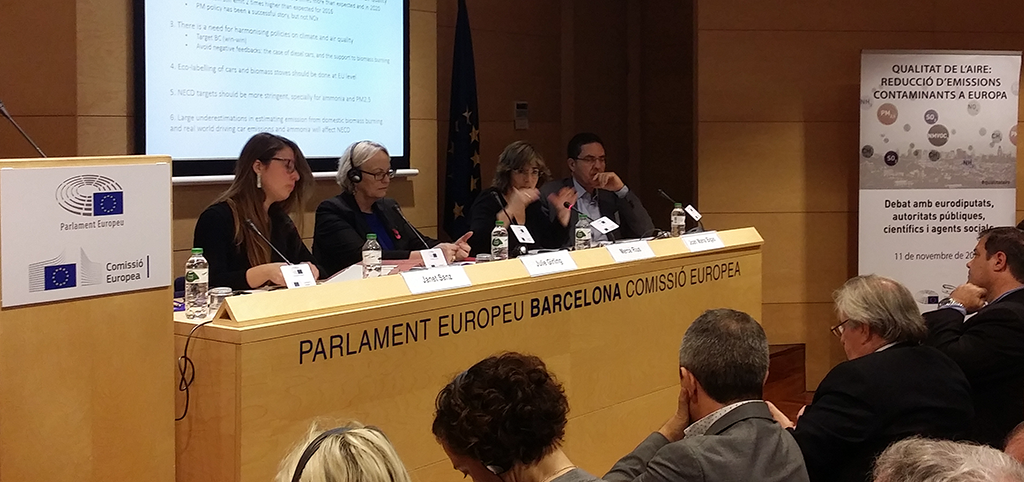 Within the next two weeks, the European Parliament is expected to give the green light to a piece of legislation that is already on the table: the European National Emissions Ceiling Directive. The proposed directive sets binding national objectives for the reduction of certain atmospheric pollutants for all European Union (EU) member states. On November 11, in view of the imminent adoption of this new directive, the European Parliament Information Office in Barcelona, with the collaboration of ISGlobal and CSIC in Barcelona, hosted a public debate attended by invited guest Julie Girling, Member of the European Parliament and rapporteur of the new directive, and representatives of local, metropolitan and regional governments, scientists and civil society organisations.
In her speech, Julie Girling explained that the new directive—which sets binding national targets to be met by 2020 and 2030 and indicative targets for 2025—is the result of "five months of difficult and complex negotiations".
European Commission data indicates that the health-related costs of air pollution range from 390 to 940 billion euros per year and ISGlobal researcher Jordi Sunyer explained that measures restricting air pollution are among the health strategies that have the best cost-benefit profile. "In Europe there are millions of chimneys—millions of exhaust pipes producing emissions. We cannot understand why the EU continues to support diesel when it is well known that diesel emissions cause cancer and diesel engines emit particles that damage our health." He went on to emphasise that "In the health sector we are asking the European institutions to reverse policies that support the use of diesel fuels".
Xavier Querol, a CSIC-IDAEA researcher, highlighted the fact that 87% of the European population is breathing air with levels of fine particulate matter (PM 2.5 μm) that exceed WHO air quality limits and that, at 97%, the percentage of the population exposed to unacceptable ozone levels is even higher.
"This is not a question of mobility, it is a public health problem" explained Janet Sanz, Deputy Mayor of Barcelona, who referred to the city's decision to implement the Superblock model in Barcelona. However, she went on to say that the great challenge will be to improve public transport "The public transportation system in Barcelona is large but it is still not good enough."
Mercè Rius, Head of Environmental Quality and Climate Change in the Catalan Government, agreed that the need to improve mobility—including Barcelona's port and airport—was one of the biggest future challenges. She also cited some of the air quality measures already planned by the Catalan government, including the creation of protected urban clean air zones and the elimination of toll reductions for diesel vehicles.
Antoni Poveda, representing Barcelona's Metropolitan Authority, presented an action plan that included initiatives such as the creation of low emission zones and park-and-ride facilities, the promotion of low emission vehicles, and changes in traffic light regulation to favour pedestrians.
In her closing remarks, ISGlobal researcher Cathryn Tonne pointed out that it was "clear that the new European directive is welcome and necessary, but insufficient to protect public health in Europe". She nevertheless went on to remind those present that "European legislation only establishes the minimum standards" and that "many more measures can be implemented at all levels".