Urban Planning, Environment and Health
"The Public Space Is a Fundamental Right"
Diputació de Barcelona and ISGlobal organised the Second Meeting on Urban Environment and Health
15.11.2018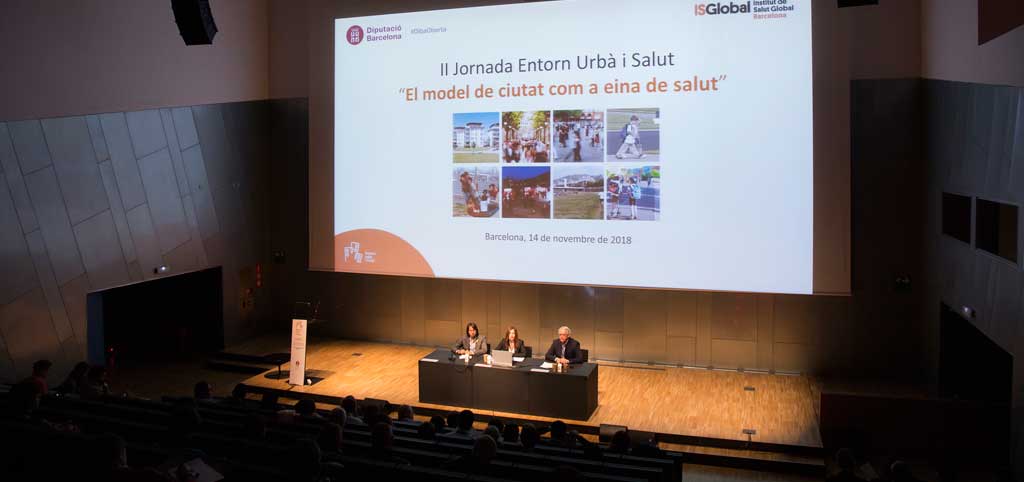 "Place people back at the centre of urban policies." This was the idea that was raised again and again, almost like a slogan, at the Second Meeting on Urban Environment and Health, held in Barcelona on November 14, 2018.
The event, co-organised by the Diputació de Barcelona and the Barcelona Institute for Global Health (ISGlobal), brought together politicians, administration officials, academia and private sector working in the health sector. The core topic for all the lectures was the city model as a tool to promote health.
During the opening session, Josep M. Antó, Scientific Director of ISGlobal, highlighted how, in the same way that health is determined by the environment, the inverse is also true, such that "improving health in the cities is a way of improving the environment."
Work done at the local level, such as Vic and Cornellá in Catalonia, at the country level, in Pontevedra, and at the international level, in New York, was presented throughout the day.
"The main disease in cities is the excess of road motor traffic that invades public spaces and displaces people. Not tackling the problem directly results in resources wasted in collateral measures that are not effective," said César Mosquera, Urban Councillor in Pontevedra, a city that already in 1999 introduced measures to reduce road traffic and where currently 70% of trips are by foot or bicycle. "The public space is a fundamental right, just like health or education. The administration should guarantee one can exercise this right," he added.
Josep Roca, Professor at the Technical School of Architecture of Barcelona, recalled that integrating health in urban planning is not a new idea, and that pioneer Ildefons Cerdá, more than 150 years ago, built on the hygienist movement to develop a new city model that would promote health. Despite this, the 20th century urbanism turned its back on health, and we now need to recover this concept.
In the last session of the day, ISGlobal researcher David Rojas showed some examples on how his research can provide evidence for guiding urban policies. In turn, Aletha Maybank, Health Deputy Commissioner for New York City, talked about the health inequity challenges faced by the North American city.