GAMA
Development of Novel Gastrointestinal Biomarkers for Use in HIV Incidence Determination in a Sub-Saharan African Setting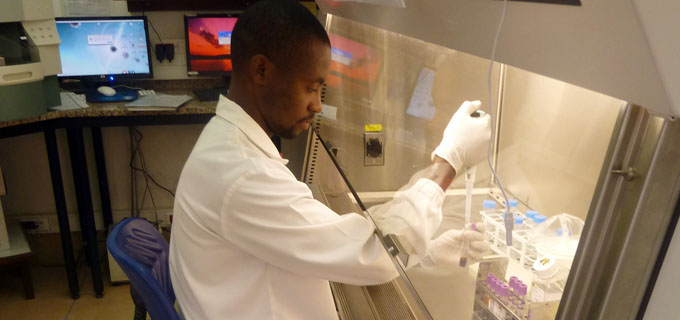 The earliest phase of HIV infection is clinically important in determining the natural history of disease. It is also the moment in which much of the immune damage occurs and constitutes the most infectious stage of the infection. Development of a test which could distinguish between individuals with early or longstanding HIV infection could potentially be used for clinical management, but would also allow the estimation of an HIV incidence rate.
The primary aim of GAMA is to gain a better understanding of dynamics of biomarkers of gastrointestinal inflammation during the first year of HIV infection as compared to chronic infection. The tremendous damage inflicted on the gut-associated lymphoid tissue during early HIV infection may provide the opportunity to identify biomarkers which present altered expression during the early phases of HIV infection. GAMA will assess the utility of these markers for identifying recent HIV infection as well as for potential associations with progression to AIDS. Understanding the dynamics of these biomarkers and associating them with standard serological responses during early HIV infection may reveal specific changes in expression patterns of biomarkers which are able to distinguish early from longstanding HIV infection.
Development of an assay for measuring HIV incidence would facilitate the evaluation of ongoing prevention programs as well as the design and implementation of trials to evaluate new prevention interventions.
Project Funders
Main Funders: Bill & Mellinda Gates Foundation
Co-funding: Ministry of Economy and Competitiveness. Government of Spain
Our Team
Principal Investigator (PI)