SHAMISEN-SINGS
SHAMISEN (Nuclear Emergency Situations - Improvement of dosimetric, Medical And Health Surveillance) - Stakeholder INvolvement in Generating Science (SINGS)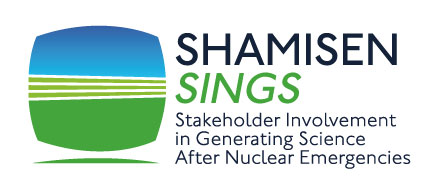 Duración

November 2017 - February 2020

Coordinador

Elisabeth Cardis

Financiadores

European Joint Programme for the Integration of Radiation Protection Research (CONCERT)
SHAMISEN-SINGS, builds on the recommendations of the EC-OPERRA funded SHAMISEN project, with the aims of
enhancing Citizen Participation
in preparedness for and recovery from a radiation accident through
novel tools and APPs
to support data collection on radiation measurements, health and well-being indicators.
The specific objectives are to:
1. Interact with stakeholders to assess their needs, and their interest in contributing to dose and health assessment and evaluate how new technologies could best fulfil these needs. Consider lessons from current issues in Fukushima related to lifting evacuation orders and medical care for vulnerable population;
2. Review existing APPs for citizen-based dose measurements, and establish minimum standards of quality;
3. Review existing APPs/systems to monitor heath and develop a core protocol for a citizen-based study on health,social, and psychological consequences of a radiation accident;
4. Build upon existing tools to develop the concept/guidelines for one or more APPs that could be used to:
monitor radiation to empower affected population and to contribute to radiation assessment of an accident's consequence, including visualisation of radiation conditions;
log behavioural and health information to be used, with appropriate ethics and informed consent, for citizen science studies
provide a channel for practical information, professional support and dialogue
5. Assess the ethical challenges and implications of both the APPs and citizen science activities through a consensus workshop.
SHAMISEN-SINGS brings together an experienced multi-disciplinary and multi-national consortium to improve countermeasures for nuclear emergency preparedness and provide important knowledge on stakeholder engagement in radiation protection, including a critical assessment of benefits and challenges of citizen science. By taking a practical ethics approach, fostering co-reflection between natural and social scientists, it will strengthen integration of social science in radiation protection. It will also provide an independent channel for collection and management of data for use by authorities for decision making, assessment of doses, evaluation of health/social condition and health surveillance in general, and support in the implementation of BSS.
Total Funding
476,099 €
Nuestro equipo
Principal Investigator