ENERGHY Summer School - Energising Global Health Innovation and Entrepreneurship
Fechas

04 - 15 July 2022

Precio

525 € + administrative fees

Dedicación

Full Time

Horario

9:00am - 6:00pm (CET)

Modalidad

Online

Idioma

English

Duración

10 working days in 2 weeks

Créditos

3 ECTS
Health innovation is a leading business sector driving prosperity worldwide. The new era of healthcare professionals faces critical global health challenges comprised in the Sustainable Development Goals (SDG), the Green Deal and the NextGenerationEU.
The ENERGHY 10-day Summer School is a toolbox, experiential learning and the ground zero of a mindset transformation towards a new generation of global health innovators.
Designed to empower postgraduate students and young professionals to create new business models with citizen-centric solutions aimed at democratizing health.
What will you learn?
You will develop an entrepreneurial mindset, acquiring innovation, management and communication knowledge and skills to create a start-up, contributing to global wellness.
Uniqueness
Motivated by the Sustainable Development Goals and NextGeneration EU.
Working with real Global Health challenges proposed by our partners in a pre-acceleration program.
Leveraging Public-Private talent to patient-identified needs with top research, academia, tech transfer, hospitals, civil society organisation and industry partners.
Inclusive, with 30+ global entrepreneurs and tech transfer experts.
Post-course Acceleration program for the best projects.
Accredited postgraduate course (3 ECTS).
The ENERGHY partnership comprises the Barcelona Institute for Global Health (ISGlobal), University of Barcelona (UB), National University of Ireland (NUI Galway), Angels Santé, Sant Joan de Déu Barcelona Children's Hospital (SJDH), Médecins sans Frontières (MSF) and Universal Doctor, with the support of EIT Health.
The ENERGHY Summer School 2022 is a postgraduate course accredited by the University of Barcelona and the TropED Network.
ENERGHY runs Monday to Friday from 9am to 6pm CET with online synchronic and self-managed sessions.
ENERGHY 2022
Day 1 - Challenges in Global Health
Socially valuable Global Health Innovation; Global Health Challenges; Push creativity up & Teambuilding
Day 2 - Needs Led Innovation
Virtual Challenge-based Field Visits to Sant Joan de Déu Children's Hospital and Médecins Sans Frontières; Problem statement definition
Day 3 - Innovation for Health Equity
Business model innovation for health equity; From research to innovation for impact
Day 4 - Moving to Smart Health
How to take discoveries out of the lab: Intellectual property and transfer policy; Start-up creation process; Digital health business model; Opportunity validation
Day 5 – Market Discovery & Validation: building successful Value Propositions
Customer discovery and profiling; Value proposition Design; Patient Validation
Day 6 – Start up your business: Product Development and Business Design
Business model generation; Expert Validation; Prototyping (minimum viable product)
Day 7 – Start up your business: Financials and Investment
Start-up financials; What investors want; Innovator toolkit
Day 8 – Pitch Coaching
How to pitch a project
Day 9 – Final Pitch Elaboration
Day 10 - Pitch & Awards Ceremony
ENERGHY Summer School leads participants from science to market, leveraging:
Live cases with entrepreneurs, tech transfer experts and spotlight speakers to increase awareness on Global Health challenges and how innovation is playing a main role to tackle the Sustainable Development Goals (SDGs)
Challenge-based workshops and team work, in which ENERGHY partners will propose real Global Health challenges for learners to develop in teams an innovative and sustainable business model guided by coachers
Challenge-based virtual visits to Sant Joan de Déu Children's Hospital and Médecins sans Frontières to interact with hands-on innovators
Entrpreneurship Toolkit
Network stimulation
Final Pitch and Awards
Post-programme mentoring of the 3 best projects during 6 months by NUI-Galway LaunchPad and StartUB!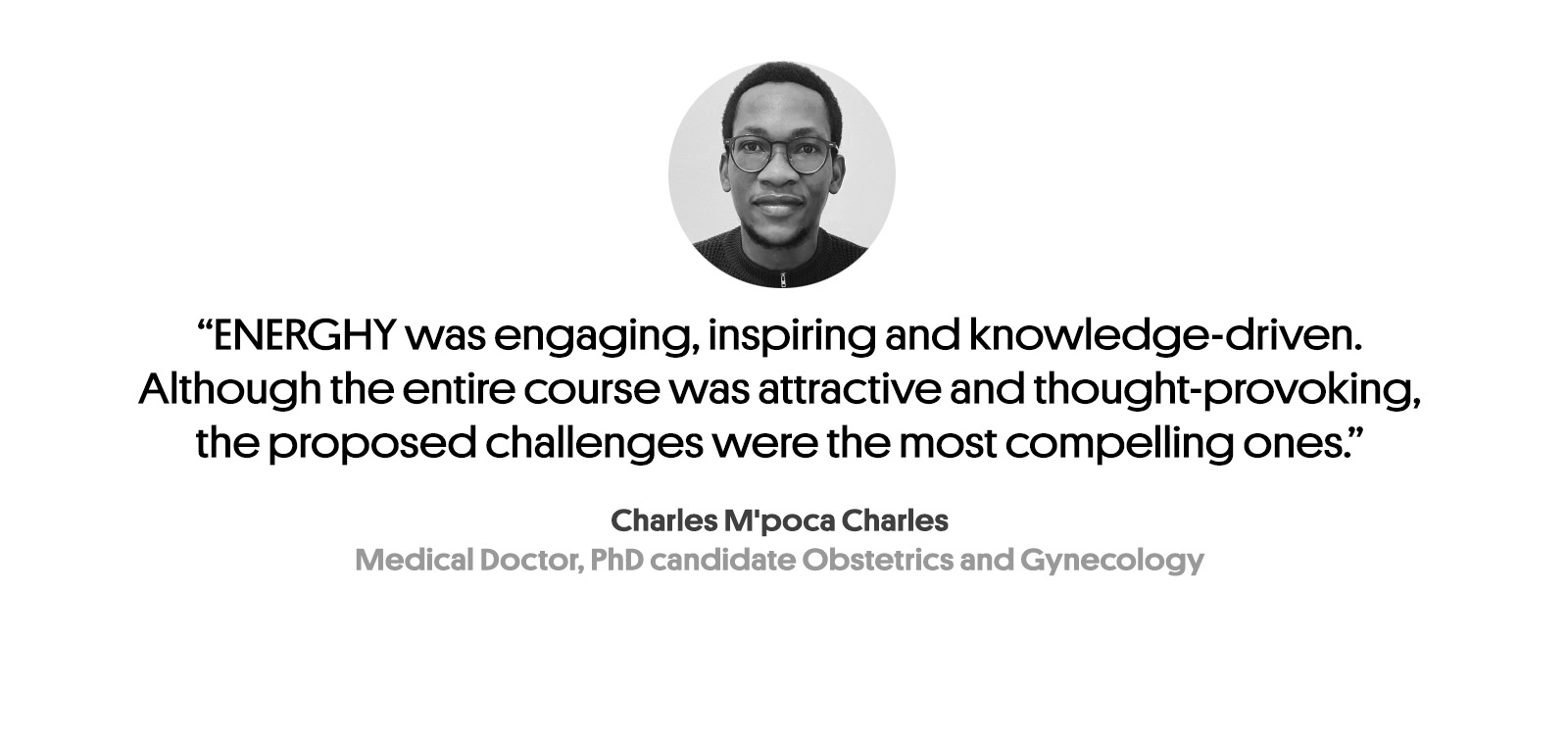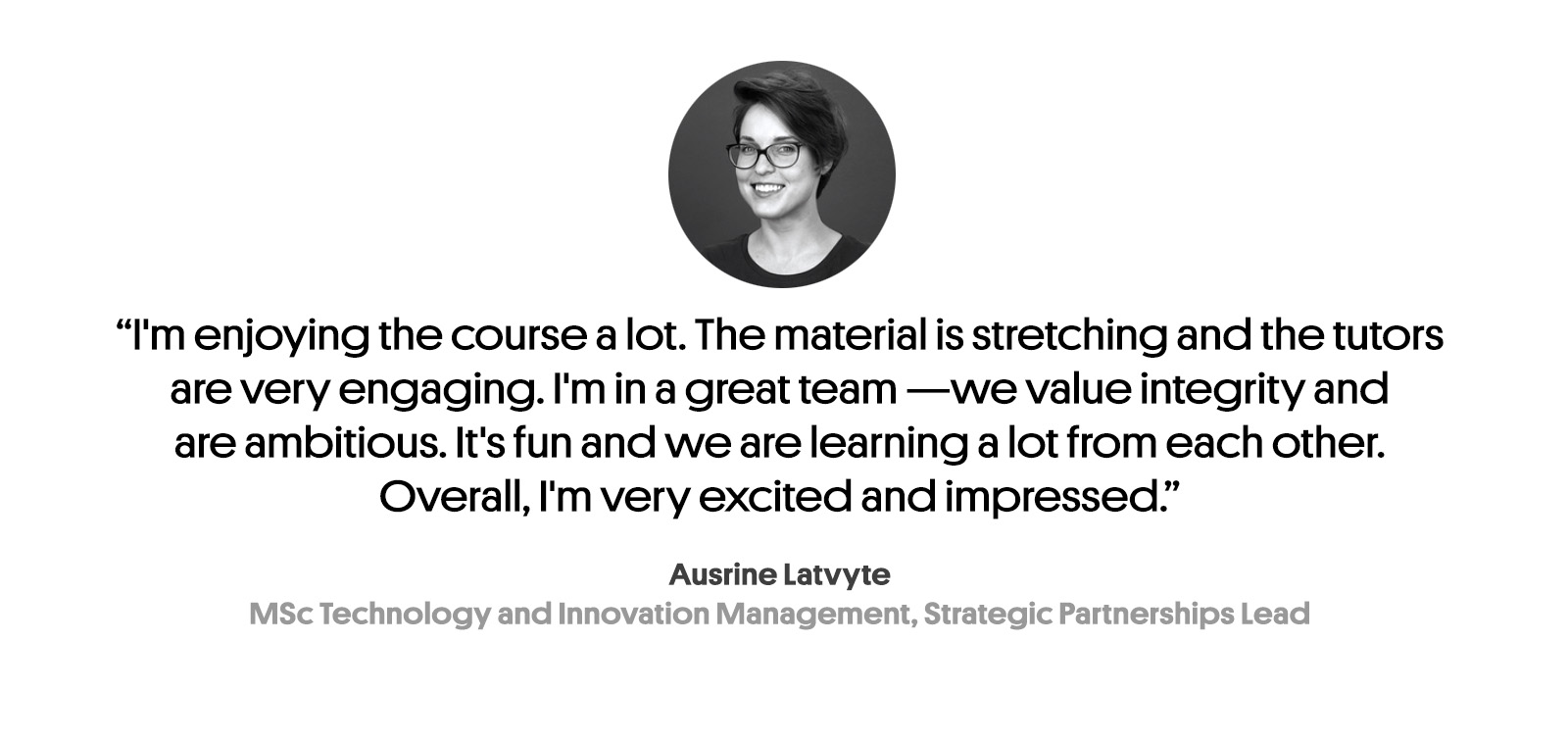 The ENERGHY Summer School has been an enriching and motivating experience. A great opportunity to discover, driven by great professionals and experts, the potential of innovation to address the challenges of global health. If you are interested in entrepreneurship, technology transfer, third sector and public health, this course will allow you to work on it in a practical and experiential way.
I have very positive memories of the course. It is really intense, two weeks in which you dedicate a good part of your time to classes, lectures and teamwork. But as they say, there is no reward without sacrifice, and in this case, the final satisfaction of having achieved it is worth it!
If I had to define the ENERGHY Summer School in one word it would be "enlightening." I found both theory and practice to be two essential and equally important parts of the program. The content of the sessions fits in with the progress of the teamwork until the final presentation.
And, above all, the closeness and accompaniment of the teachers and speakers help to get the best out of the team project.
In my case, as a science communication and outreach professional working on pediatric innovation and health promotion projects, I felt it could be a great opportunity to discover more closely aspects of global health. Public health and development are topics that interest me personally and that I would like to continue to develop throughout my professional career.
This summer school has served as a seed to enhance my interest and keep on learning.
Paula Cañal. Health Promotion officer at Hospital Sant Joan de Déu Barcelona.
Learning Outcomes
Understand the need for innovation to tackle main Global Health challenges and reach Sustainable Development Goals (SDGs).
Apply an entrepreneurial mindset to drive Global Health innovation.
Analyse innovative business models for better access, equity and sustainability in healthcare.
Develop effective strategies to fully leverage digital transformation in Global health.
Develop a critical mindset by acquiring entrepreneurship and management knowledge and skills to start-up a business.
Develop effective communication skills to deliver a winning pitch.
Skills addressed
Management & Leadership: developing positivity, creativity, teambuilding, collaboration and emotional intelligence to create targeted solutions.
Inter-professional & Multidisciplinary approach: interacting with faculty and participants from different geographical, educational (i.e. life/medical science, public health, bioengineering, social sciences) and professional backgrounds (academia, research, healthcare, medtech, tech transfer).
Entrepreneurship & Innovation : identifying uncovered needs and designing innovative and profitable business models.
Critical Thinking & Decision Making: increasing awareness on the challenges and deliver effective solutions through co-creation, opportunity validation, customer discovery, minimum valuable product and business model definition, iteration and pivoting process.
Interpersonal & Citizen-oriented: bringing together as a team a citizen-centred solution to the market.
Needs-driven innovation: applying design thinking and business model canvas methodologies.
Communication: performing a convincing pitch.
Participant Profile
ENERGHY is addressed to:
Young entrepreneurs and professional;
MSc and PhD students;
Postdoctoral researchers; And
Undergraduate students in the last year of their studies (graduating in 2023) who are motivated to lead change in Global Health from different disciplines.
Fluency in English is required.
Application process
Deadlines for Applications:
Round 1 Admissions Deadline: 23 March 2022.
Notification of admission 11 April 2022.
Round 2 Admissions Deadline: 23 April 2022.
Notification of admission 2 May 2022.
Round 3 Admissions Deadline: 23 May 2022.
Notification of admission 1 June 2022.
Round 4 Admissions Deadline: 27 June 2022 (last available places).
Notification of admission 30 June 2022.
Scholarships
The programme will sponsor some ENERGHY 2022 participants from low- and middle-income countries (LMIC).
Eligibility criteria
Applicants to the ENERGHY scholarships programme must be pre-accepted to the course and be from a LMIC. Please check the World Bank classification to know which countries are included in this category. A special priority consideration will be given to candidates from Ukraine.
For further information on the ENERGHY 2022 scholarship application procedure, please click here.
PLEASE NOTE:
In addition to our regular scholarships programme, we are pleased to announce the availability of a few additional scholarships for participants with financial constraints to cover the tuition fee.
If this is your case, please proceed with the course application and send an email as soon as possible to the ENERGHY Team at energhy@isglobal.org, justifying your need for the scholarship.