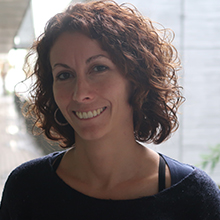 Maribel Casas
Assistant Research Professor
Childhood & Environment, Non-communicable Diseases and Environment
Maribel Casas has a degree in Veterinary Medicine (2003) from the Universitat Autònoma de Barcelona (UAB) and she finished her PhD degree in 2009 at the Centre for Research in Animal Health (CReSA-UAB) within the program of Medicine and Animal Health.

In 2009 she joined the Centre for Research in Environmental Epidemiology (now ISGlobal - Campus Mar) as a postdoctoral fellow within the Child Health research programme. She was awarded a Sara Borrell postdoctoral in 2013. In 2015 she worked as a postdoctoral fellow in the Department of Pediatrics of the Erasmus Medical Centre, Rotterdam, the Netherlands. She was awarded a Miguel Servet grant in 2016.

At ISGlobal, she specializes in the effects of environmental pollutants, particularly of endocrine-disrupting chemicals, on child health with a special focus on respiratory health.

As a key researcher in three EC-funded projects, she has been instrumental in building a birth cohorts network in Europe (ENRIECO, CHICOS, BRIDGE-health).

She has a key role in two EU-funded exposome projects (HELIX, ATHLETE). She is the principal investigator of three national grants (ENDOLUNG, INMA-Ado-Respi, LungFit) and co-leads a WP of a European project (OBERON).

She is member of the executive committee of the INMA Project.
Lines of research
Effects of endocrine-disrupting chemicals on child health and development
Early-life determinants of child respiratory health
Effects of maternal obesity on child neurodevelopment
Main publications
Abellan A, Sunyer J, Garcia-Esteban R, Basterrechea M, Duarte-Salles T, Ferrero A, Garcia-Aymerich J, Gascon M, Grimalt JO, Lopez-Espinosa MJ, Zabaleta C, Vrijheid M, Casas M. Prenatal exposure to organochlorine compounds and lung function during childhood. Environ Int. 2019 Oct;131:105049.

Casas M, Basagaña X, Sakhi AK, Haug LS, Philippat C, Granum B, Manzano-Salgado CB, Brochot C, Zeman F, de Bont J, Andrusaityte S, Chatzi L, Donaire-Gonzalez D, Giorgis-Allemand L, Gonzalez JR, Gracia-Lavedan E, Grazuleviciene R, Kampouri M, Lyon-Caen S, Pañella P, Petraviciene I, Robinson O, Urquiza J, Vafeiadi M, Vernet C, Waiblinger D, Wright J, Thomsen C, Slama R, Vrijheid M. Variability of Urinary Concentrations of Non-Persistent Chemicals in Pregnant Women and School-aged Children. Environ Int. 2018 Dec;121(Pt 1):561-573.

Casas M, den Dekker HT, Kruithof CJ, Reiss IK, Vrijheid M, Sunyer J, de Jongste JC, Jaddoe VWV, Duijts L. The effect of early growth patterns and lung function on the development of childhood asthma: a population-based study. Thorax. 2018 Dec;73(12):1137-1145.

Casas M, Valvi D, Ballesteros-Gomez A, Gascon M, Fernandez MF, Garcia-Esteban R, Iñiguez C, Martínez D, Murcia M, Monfort N, Luque N, Rubio S, Ventura R, Sunyer J, Vrijheid M. Exposure to Bisphenol A and Phthalates during Pregnancy and Fetal Growth. Environ Health Perspect. 2016 Apr;124(4):521-8.

Casas M, Chatzi L, Carsin AE, Amiano P, Guxens M, Kogevinas M, Koutra K, Lertxundi N, Murcia M, Rebagliato M, Riaño I, Rodríguez-Bernal CL, Roumeliotaki T, Sunyer J, Mendez M, Vrijheid M. Maternal overweight, obesity, and pregnancy weight gain and child neuropsychological development: two southern European birth cohort studies. Int J Epidemiol. 2013 Apr;42(2):506-17.