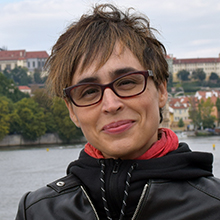 Dr. Cynthia Abarrategui Garrido has an extensive experience of more than 10 years in biomedical research in several medical areas such as cardiovascular, oncology, digestive system and immunology. Professional step that culminated in the obtainment of her PhD thesis in 2008. This scientific knowledge is enriched with a solid experience in the management, coordination and dissemination of European projects in the area of Health.

At ISGlobal, Dr. Cynthia Abarrategui Garrido has worked as Project Manager of the European project NoMorFilm (2016-2019) –funded by the Horizon 2020 programme of the European Commission– led by Dr. Sara Soto.

Currently, she is in charge of coordinating the EARLY-ADAPT project (2021-2026) -funded by the European Research Council (ERC) H2020 programme of the European Commission; GA Nº865564- led and coordinated by Dr. Joan Ballester.

In addition, Dr. Abarrategui Garrido has participated as a guest in the RTVE-RNE programme "Viaje al centro de la noche; Journey to the center of the night" analyzing the research carried out in Spain. In several occasions she has been a collaborator of the MILLENIUM Programme on RNE-Radio Exterior in the section of "Curiosités Scientifiques sur Internet" - "Scientific Curiosities on the Internet".

She has recently published her first novel "El secreto adamantino", a fusion of fiction and scientific outreach.