Research, Urban Planning, Environment and Health
Four Young Researchers With Ties to ISGlobal Receive Awards for Scientific Research From Barcelona City Council
The researchers proposed solutions to the challenges facing the city in the wake of the COVID-19 crisis
18.03.2021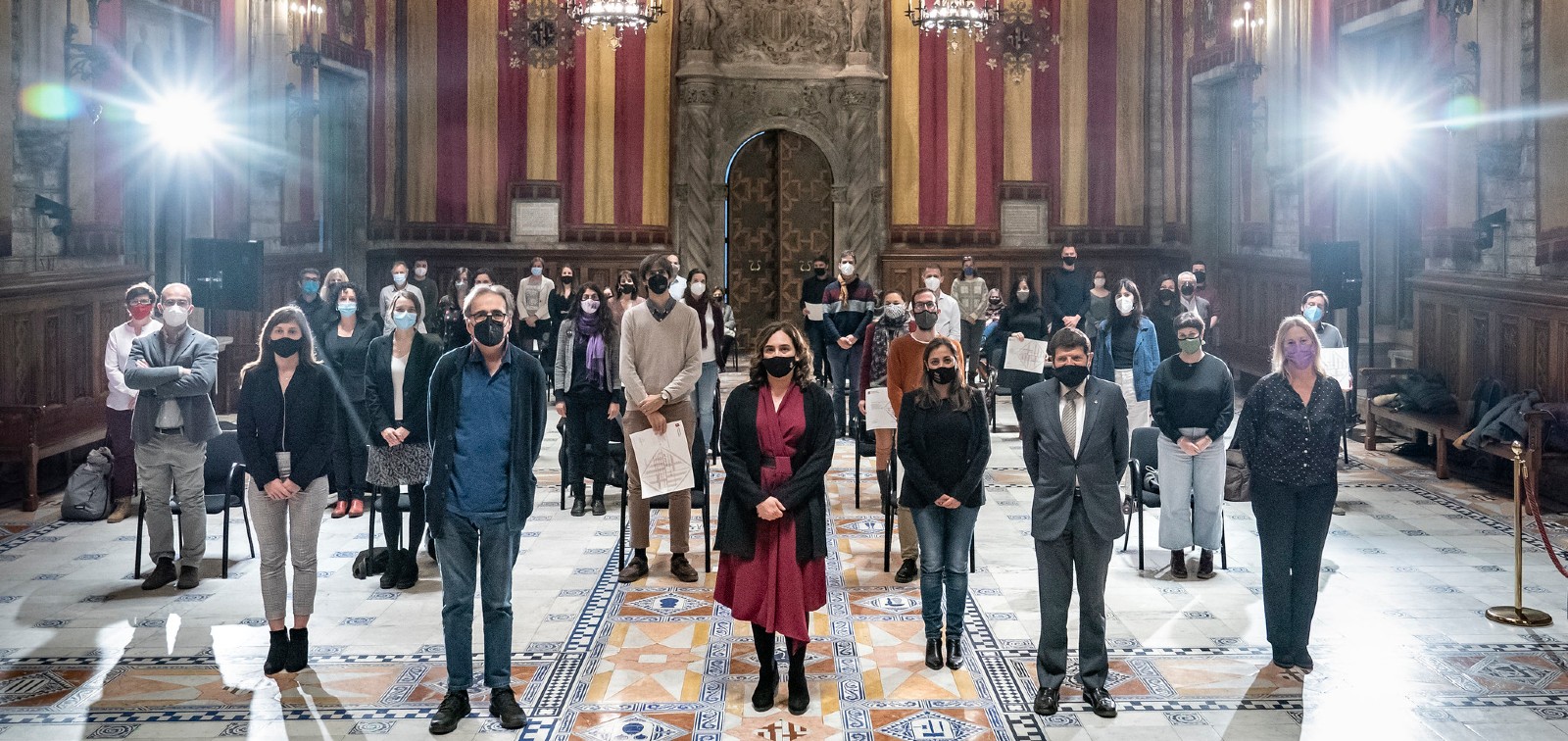 Two young researchers affiliated with ISGlobal— Carlota Sáenz de Tejada and Guillem Vich —and two former ISGlobal researchers who maintain contact and continue to collaborate with the centre—Oriol Marquet and Margarita Triguero-Mas—have received awards from the Barcelona City Council for their proposals on how to rethink the city in the wake of the COVID-19 crisis.
The Awards for Scientific Research were presented to the winners by Barcelona Mayor Ada Colau at a ceremony held at city hall on 16 March. The awards, worth a total of €1.2 million, are endowed by a pandemic fund set up by the city council to address the COVID-19 emergency.
Of the 65 researchers who submitted a proposal, awards went to 15, most of whom were young women scientists. The Awards for Scientific Research are intended to boost the careers of researchers up to 40 years of age with a short or medium-length research track record. Contest rules required candidates to have a doctoral degree but not a permanent full-time paid position at a research centre or university. Nevertheless, many candidates did have a part-time or temporary affiliation.
Three of the award-winning projects were submitted by researchers with a part-time or temporary affiliation with ISGlobal. "This shows that the research staff trained at this centre are doing excellent work that is being recognised and deemed highly relevant to the city and urban challenges generally," commented Carolyn Daher, Coordinator of the Urban Planning, Environment and Health Initiative at ISGlobal.
Oriol Marquet and Guillem Vich received €96,617.00 in prize money for their proposal entitled The "15-Minute City": Post-Pandemic Mobility Dynamics in the City of Proximity .
Carlota Sáenz de Tejada Granados received €57,530.00 for her proposal, Housing and Health in Pandemic Times and Beyond.
FEMPUBLIC – Strengthening the Impact of Public Space to Improve Health and Well-Being in Barcelona: A Feminist Intersectional Approach , by Margarita Triguero-Mas and Helen Vada Susan Cole, was awarded €97,831.00.
The winning projects will be presented at the 2021 City and Science Biennial in Barcelona.