The Executive Committee of ISGlobal's Board of Trustees Visited the Campus Clinic Laboratories
The Esther Koplowitz Centre (CEK) hosts ISGlobal's laboratories
07.05.2018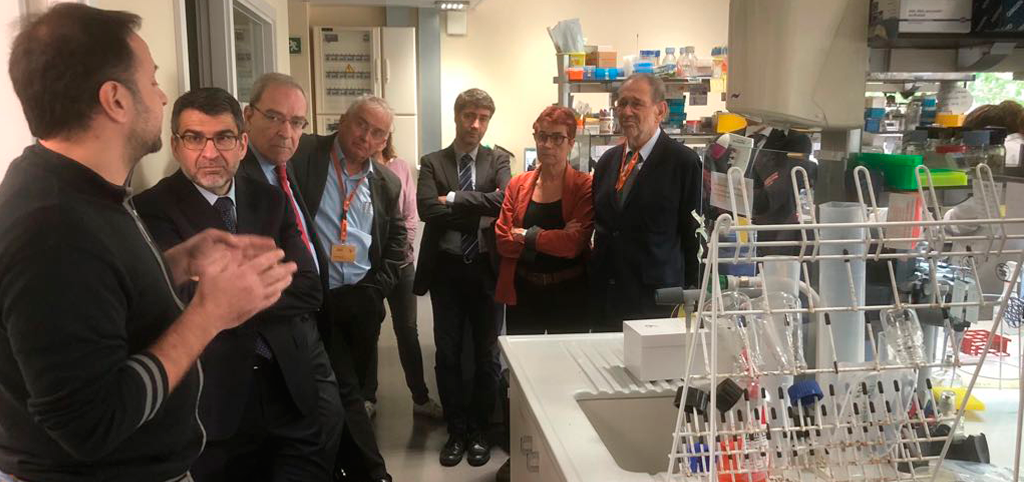 On May 3, ISGlobal's Executive Committee visited the facilities of the Esther Koplowitz Centre (CEK), a building exclusively dedicated to biomedical research that hosts ISGlobal's Campus Clinic laboratories since 2010.
The members of the ISGlobal Executive Committee were received by the strategy and communication directors at IDIBAPS, the research centre in charge of managing the building, and were shown the scientific platforms situated in the underground levels and shared by all the research groups. After that, Laura Puyol, lab manager at ISGlobal, accompanied the Comittee members to the ISGlobal laboratories, where several researchers explained their research activities: Carlota Dobaño in malaria immunology, Alfred Cortés in malaria parasite epigenetics, and Ignasi Roca in microbiology and antibiotic resistance. After the visit to the laboratories, the regular Executive Committee meeting took place, chaired by Javier Solana.
The
Center Esther Koplowitz,
a state-of-the-art facility where ISGlobal Campus Clinic researchers can develop their full scientific potential, is the result of joint efforts from the Esther Koplowitz Foundation, the Hospital Clinic, and several public and private institutions including the Catalan Government, the Ministry of Science and Innovation, the Instituto de Salud Carlos III and the University of Barcelona.