HIV/AIDS and Tuberculosis (TB)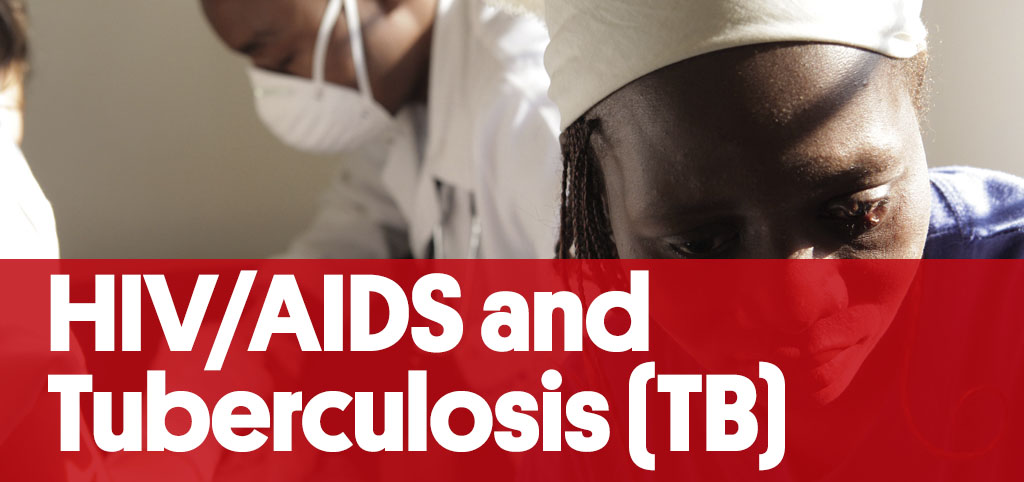 At the end of 2014, there were some 37 million people in the world infected with HIV and almost one-third of the estimated 1.2 million deaths annually in this population were due to TB. In the same year, TB not associated with HIV caused a million deaths, making both diseases leading causes of global mortality.
Efforts to strengthen HIV/TB interventions since 2000 have reduced the number of people dying of HIV-associated tuberculosis by 22%. However, the low coverage of antiretroviral therapy, resistance to those drugs, and the lack of diagnosis of both infections continue to be a problem in sub-Saharan Africa, the area with the highest TB burden in the world where more than 70% of the people with HIV live. Access to antiretroviral therapy is a priority in the fight against both infections, and the aim of the UNAIDS 90-90-90 initiative is to diagnose 90% of cases of HIV infection, treat 90% of those infected, and achieve viral suppression in 90% of those receiving antiretroviral treatment by 2020. Reaching this goal would make it possible to eliminate HIV/AIDS by 2030.
Our research on HIV/AIDS and TB focuses on the specific problems related to the epidemic in sub-Saharan Africa, where the incidence of both diseases is extremely high in adults and children.
Main Lines of Research
HIV and women's and children's health
Pathogenesis of the acute and early stages of HIV infection
Epidemiological and operational research in the community to improve access to antiretroviral therapy
Epidemiological studies to determine the burden of tuberculosis in the community
Assessment of new tools for the diagnosis, treatment and prevention of tuberculosis
Our Team
Coordinator
Denise Naniche

Research Professor, Co-Chair of the Viral and Bacterial Infections Programme
ISGlobal Team
See More
Highlighted Projects
Linkage and retention in care following home-based HIV testing serosurveys in Manhiça District, Southern Mozambique
Integrating and decentralizing diabetes and hypertension services in Africa
http://inteafrica.org/
Measuring community prevalence among HIV exposed children in rural Southern Mozambique