Research, Policy & Global Development
Kick-off for SHAMISEN, a European Project to Improve the Preparedness and Health Surveillance of Populations Affected by Nuclear Accidents
CREAL leads the project, in which ISGlobal and more than 15 institutions from Europe and Japan will participate
21.12.2015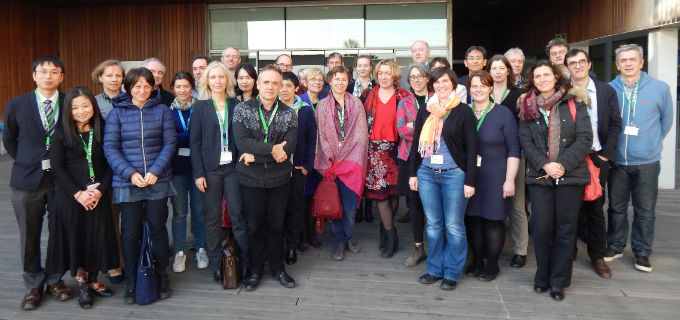 The kick-off meeting for SHAMISEN, a European Commission-funded Project led by CREAL, an ISGlobal allied center, took place on the 17th and 18th of December at the PRBB, Barcelona. The aim of the project is to review the lessons learned from Chernobyl and Fukushima in order to improve the surveillance and living conditions of populations affected by past and future nuclear accidents. The event brought together close to 50 experts and representatives from institutions in Belgium, France, Germany, Italy, Norway, Russia, Spain, Ukraine, United Kingdom and Japan.
The project´s goal is to build upon lessons learned from past accidents, in particular Chernobyl and Fukushima, in order to develop recommendations for supporting emergency responses, clinical decisions in the aftermath of the accident, and the long-term follow-up of populations, in a manner responding to their needs without generating unnecessary anxiety. While some populations have undeniably sustained health impacts from the radiological consequences of accidents, many others have suffered serious consequences that were not directly related to the biological effects of radiation, but rather induced by the event itself, the presence of radioactive contamination and consequent emergency and remediation measures taken, and/or uncertainties about radiation levels and health effects. In Fukushima, for example, the risks associated to the evacuation of critically-ill patients outweighed the benefits.
"For the first time, this project will do a critical review of what has or has not worked in past accidents", stated Prof. Elisabeth Cardis, Head of the Radiation Programme at CREAL and leading investigator of the project. "Once this is done, we will do recommendations directed to the European Union and its member states in order to improve the preparedness, response and health surveillance in the case of future nuclear accidents", she added.
For Dr. Thierry Schneider, expert at CEPN, France, and leader of one of the work packages, this project is unique in its holistic view of well-being (not only medical, but also psychological and social) and in the inclusion of cross-cutting issues such as the economic implications. In addition, the project seeks to strengthen the impact of the recommendations by identifying and engaging the different stakeholders, a task in which ISGlobal will actively participate.
During the meeting, the experts established the working plan and the agenda for the planned meetings and workshops. At the end of the 18-month long project, the consortium will deliver to the European authorities a final document with the recommendations. SHAMISEN is part of OPERRA, a large European project on radiation research.