ENERGHY - Energising Global Health Innovation and Entrepreneurship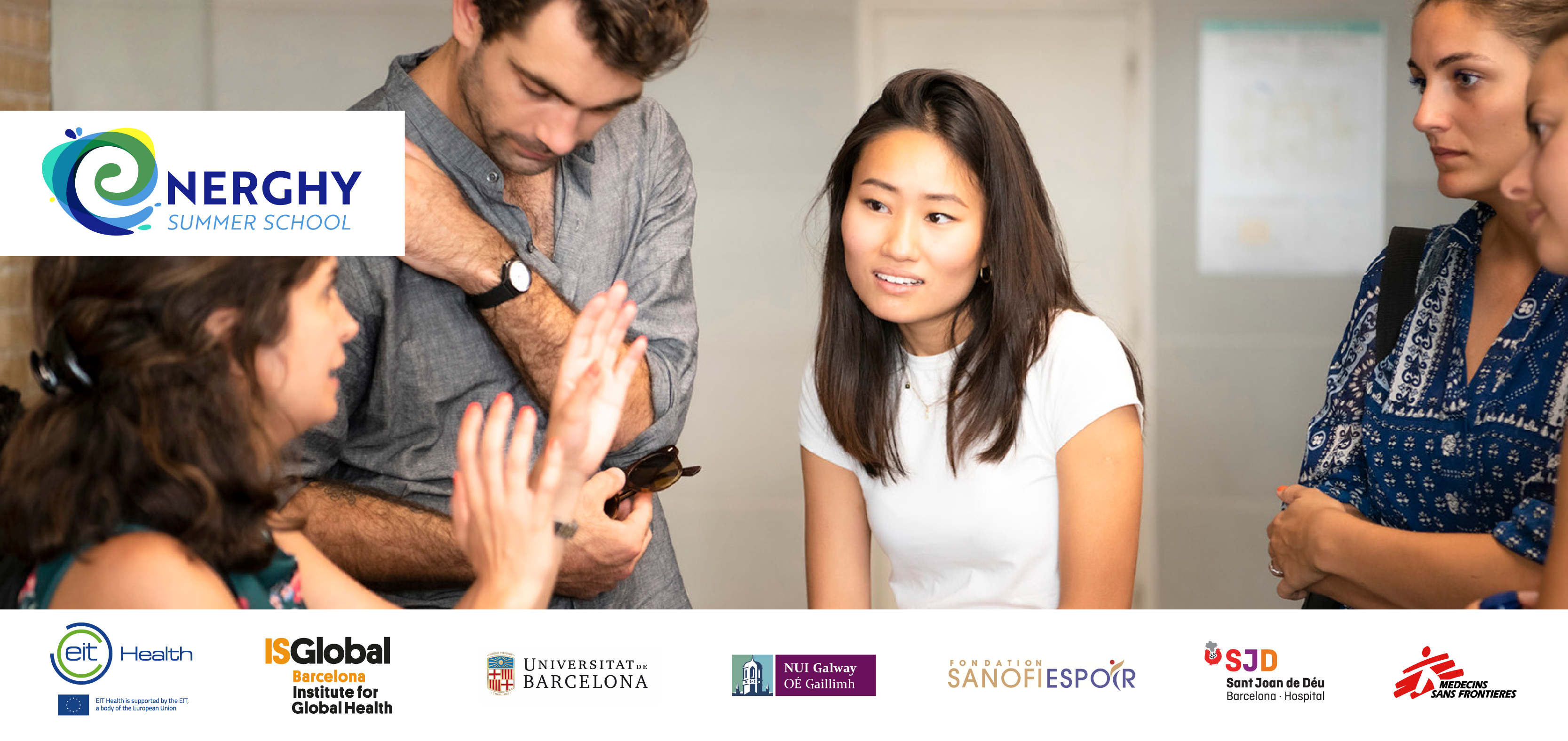 Fechas

28 June - 14 july 2021

Precio

875€

Dedicación

Full Time

Modalidad

Online

Idioma

English

Créditos

5 ECTS
The digital revolution has the potential to improve health and empower patients, but it could also increase health inequities, shaping the economy and the society.
ENERGHY Summer School is a toolbox and a fresh experience to change perspective for a new generation of global health innovators. Designed to empower postgraduate students, researchers and young professionals to create new business models with global citizen-centric solutions aimed at democratizing health for all.
What will you learn?
You will develop an entrepreneurial mindset; acquiring innovation, management and communication knowledge and skills to create a start-up.
Uniqueness
Motivated by the Sustainable Development Goals.
"Learn-by-doing" with open discussions with entrepreneurs, tech transfer experts, spotlight speakers, real challenge-based workshops, real-life cases, challenge-based workshops, coaching, online toolbox and final pitch award.
Leverages talent putting together top hospitals, research, academia, tech transfer and industry partners from across Europe to jointly work on a unique course offer on global health transformation.
Worldwide reach, with participants from around the globe and different backgrounds to enrich perspective and networking.
The ENERGHY partnership includes the Barcelona Institute for Global Health (ISGlobal), University of Barcelona (UB), NUI-Galway BioInnovate Ireland, Sanofi-Espoir Foundation, Hospital Sant Joan de Déu (HSJD) and Médecins sans Frontières (MSF).
Please find below the programme from last edition. The programme for 2021 will be released in January 2021.
Day 1 — Challenges in Global Health
MORNING | How can innovation help reach the SDGs and save lives in COVID-19 pandemic?
AFTERNOON | Push creativity up, teambuilding.
Day 2 — Innovation for Health Equity
MORNING | Overcoming health access and inequity through innovative business models.
AFTERNOON | Awaken the entrepreneurial spirit; finding a problem to solve.
Day 3 — Moving to Smart Health
MORNING | From research to innovation for impact; medical technology innovation; Intellectual property and transfer policy
AFTERNOON | Opportunity validation and customer discovery
Day 4 — Needs Led Innovation
MORNING | User-cented Bio-design process; medical technology innovation
AFTERNOON | Customer mapping and value proposition
Day 5 & 6 — From Knowledge to Users
MORNING | Visit & workshop to 3 sites: Sanofi-Aventis, Médecins sans Frontières and Hospital Sant Joan de Déu.
AFTERNOON | Minimum valuable product with Lego serious play; turning ideas into Business Models
Day 7 & 8 — Start-Up your business
MORNING | Start-up financials; ups, downs, pitfalls and watch-outs of successful start-ups; wearing the investor's hat; innovator toolkit.
AFTERNOON | Urban health spotlight talk; bring your business model together; the road to market: flipping the pitch.
Day 9 — Final coaching
How to pitch your project
Day 10 — Pitch and awards ceremony
ENERGHY Summer Scool is a toolbox, experiential learning and the ground zero of a radical mindset transformation towards a new generation of young global health innovators.
The course will lead learners from science to market leveraging:
Live cases with entrepreneurs, tech transfer experts and spotlight speakers to increase awareness on Global Health challenges and how innovation is playing a main role to tackle Sustainable Development Goals (SDGs).
Challenge-based workshops and team work, in which a real Global Health challenge will be proposed by ENERGHY Partners for learners to develop in teams an innovative and sustainable business model guided by coachers.
Challenge-based visits to Médecins sans Frontières, Sant Joan de Déu Pediatric Hospital, Sanofi-Espoir and Barcelona Health Hub in Barcelona (½ day visits) to interact with hands-on innovators.
Online Toolbox on entrepreneurship
Network stimulation
Final Pitch and Awards
Post-programme mentoring of the 3 best projects with 6 months access to NUI-G LaunchPad or StartUB! Sprint
Learning Outcomes
Understand the need for innovation to tackle main Global Health challenges and reach Sustainable Development Goals (SDGs).
Apply an entrepreneurial mindset to drive Global Health innovation.
Analyse innovative business models for better access, equity and sustainability in healthcare.
Develop effective strategies to fully leverage digital transformation in Global health.
Develop a critical mindset by acquiring entrepreneurship and management knowledge and skills to start-up a business.
Develop effective communication skills to deliver a winning pitch.
Skills addressed
Management & Leadership: developing positivity, creativity, teambuilding, collaboration and emotional intelligence to create targeted solutions.
Inter-professional & Multidisciplinary approach: interacting with faculty and participants from different geographical, educational (i.e. life/medical science, public health, bioengineering, social sciences) and professional backgrounds (academia, research, healthcare, medtech, tech transfer).
Entrepreneurship & Innovation : identifying uncovered needs and designing innovative and profitable business models.
Critical Thinking & Decision Making: increasing awareness on the challenges and deliver effective solutions through co-creation, opportunity validation, customer discovery, minimum valuable product and business model definition, iteration and pivoting process.
Interpersonal & Citizen-oriented: bringing together as a team a citizen-centred solution to the market.
Needs-driven innovation: applying design thinking and business model canvas methodologies.
Communication: performing a convincing pitch.
Participants
ENERGHY is addressed to:
MSc and PhD students
Postgraduates
Postdoctoral researchers
Young entrepreneurs and professionals interested in Global Health coming from different disciplines.
Motivated to lead change in Global Health and coming from different disciplines.
Fluency in English is required.
Tuition
The ENERGHY Summer School 2020 has been awarded funding from EIT Health which is supported by EIT, a body of the European Union.
Accepted candidates will be required to pay 875€ to cover the registration fees by the University of Barcelona.
How to apply
Application will be open shortly.